Details

Category: Archives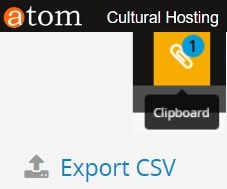 Here we start a new set of post dedicated to AtoM 2.3. The new release of the stronger open-source web application for archives, and the nearest to the archival international standards.
In this post we treat two of the most appreciated developments in this new version, the Clipboard and the improved function to export data to .csv files (comma separated values). We note that these new features enhance the user interface and its usability, after all we think this is the really important piece when making web diffusion projects with archive funds.
Add a comment
Details

Category: Archives

ArchivesSpace is an open source web application for managing archives information. Supports functions to manage archives fonds and web publishing to allow online search.

ArchiveSpace is a Project that integrate the Archivists' Toolkit and Archon into a single application in order to increase overall functionality and the sustainability of the these tools. From Archivists' Toolkit takes the life-cycle data model, compliance to community standards and the import,export and reports tools; from Archon takes the web access to descriptions of archives, that's online fonds consultations.
Add a comment