Here we start a new set of post dedicated to AtoM 2.3. The new release of the stronger open-source web application for archives, and the nearest to the archival international standards.
In this post we treat two of the most appreciated developments in this new version, the Clipboard and the improved function to export data to .csv files (comma separated values). We note that these new features enhance the user interface and its usability, after all we think this is the really important piece when making web diffusion projects with archive funds.
Clipboard
The Clipboard function allows the user to select archival descriptions as search or browse classification schemes, which are added to a list that is managed from the Clipboard. For those of you who use Pinterest, it is similar to making a "pin".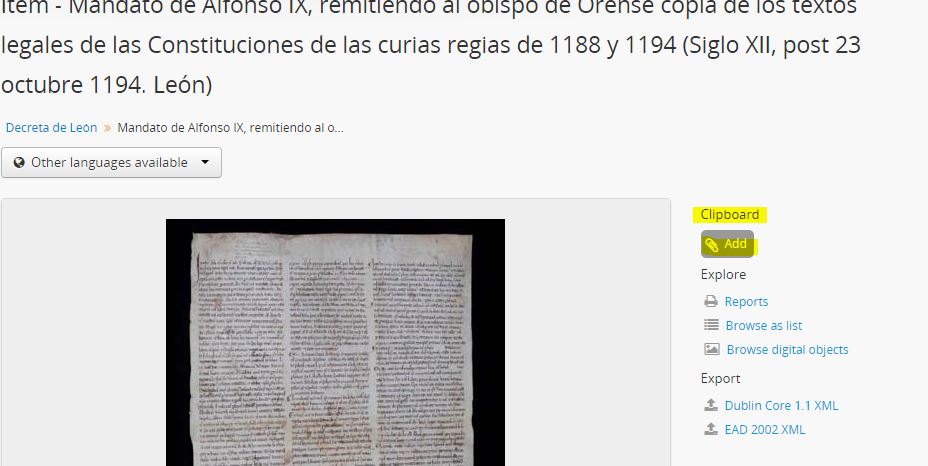 Once the user has selected the archival descriptions, the Clipboard icon in the top menu displays the number of records added. Then is possible to access the clipboard and see the listed items, sort them by date, alphabetically, or recent. Also, there is a "Print Preview" button to show the list without buttons, for printing purposes.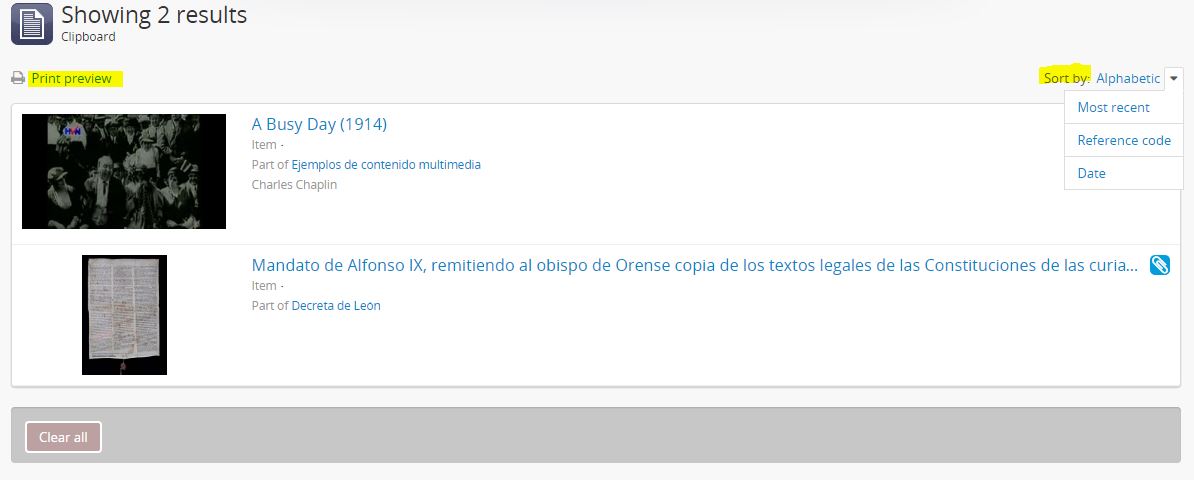 So far, all our AtoM 2.3 users will access these functions without restriction. Now let's review the functions of export to .csv and its requirements.


Export to .csv
This functionality requires 2 requirements:
The user must be a registered user and access the application (log in) with his credentials (authenticated).
Just thinking in an archive consultation service, the credentials can be provided to users after meet their archive regulations.
Atom-worker (Asynchronous jobs and worker management) must be active on the server. This service is also used in other functions such as the generation of Finding Aids.

Note that after the installation, Atom-worker is not active, and export to .csv processes will always be solved with Error 500.

From Cultural Hosting we offer web hosting service for AtoM, and its previous version Ica-Atom, as well as technical support for these applications. At the end of this post, we leave the link to the services we offer.
Once the above requirements have been met, the administrators and the registered users are allowed to export to .csv, and may do so with the Clipboard and also with the search results.
Once the export has been ordered, the file will be available in the "Jobs" within the element "manage" from the top menu.

In short, these new features improve the user experience, resulting a more fluid searching or investigation. Now the request for consultations o reprography is easier. We hope that in the future the Artefactual team could implement a Clipboard email function to send a number of records to a configurable email account, achieving one automated flow for the consultation service.
If you want the latest version of AtoM (Access to Memory) installed and running, or need to upgrade you existing application, you can hire our services clicking on the next button
AtoM 2 Hosting and technical support
Cultural Hosting